"Faculty Corner with Dr. Jeffrey Arthurs "
Join us Tuesday, Sept. 6th at 7:00 pm (EST)!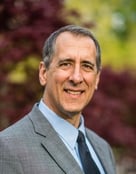 We would love it invite you to join us for a time with Dr. Jeff Arthurs. He is professor of preaching and communication at Gordon-Conwell Theological Seminary, South Hamilton, MA. His books reflect his love of preaching and communication: Preaching with Variety, Devote Yourself to Public Reading of Scripture, and Preaching As Reminding. Jeff is interim pastor at Cross Bridge in Lexington, MA. Dr. Arthurs has been married for thirty-eight years and enjoys playing tennis and disc golf with his wife. They are the parents of one son, Daniel.
We invite you to join us on Tuesday, Sept. 6th at 7:00pm (EST). To receive the webinar link, RSVP below.
Please feel free to invite anyone you feel would benefit from this webinar. If you have any questions, feel free to contact our office at admissions@gordonconwell.edu or at 978-646-4038. We hope you will join us!